District 5 Heroes 2013
translation services usa
[facebooksimplelike] Click LIKE to like us on Facebook if you like improving the quality of life in East San Jose or you know an everyday hero!
——————————————————————————————————–
Who is a hero in the community to you? Or who is your everyday hero? Nominations for District 5 Heroes were submitted by community members just like you. All nominated Heroes were recognized, District 5 United decided which heroes received recognition, and the community decided who received Community's Choice Special Recognition!
Click here to view nominated hero stories.
Click here to view photos and videos of the District 5 Heroes recognition on June 29, 2013.
Click here to view the Community's Choice.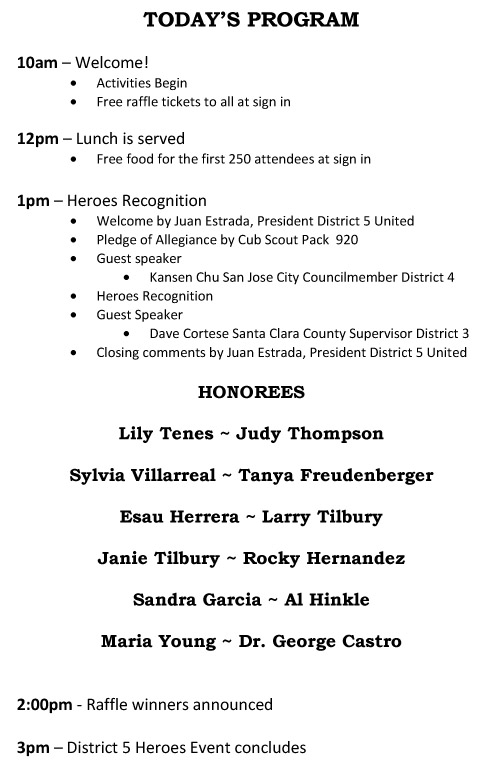 ——————————–
District 5 Heroes 2013
Saturday, June 29, 2013
10am to 3pm
Lunch will be served beginning at 11:00 a.m. with the Heroes presentation scheduled for 1:00 p.m.
——————————–
The "District 5 Heroes" community pride project is intended to allow the East San Jose community to celebrate our everyday heroes. We're sharing everyday hero stories provided by community members just like you.
Your hero may have made a difference or impact in your life. Your hero may have inspired you by giving to the community or launching a business. Or saved your life or that of another. Or displayed tremendous courage or sympathy. Or simply gone to work or school every day. Only you know why your hero is your hero. 
View currently nominated 2013 District 5 Heroes by clicking here. 
——————————–
—————————
Sign up here to receive notifications from District 5 United: http://www.district5united.org/about-2/contact-us/